How to View WIFI Network Connection
Wondering which WIFI network you're connected to? You can find out using your Shaker Solo by following these easy steps.
Before we get started, please ensure you have your network mode set to WIFI. You can configure your Shaker Solo to connect to WIFI by following this guide.
Once your device is set to connect to WIFI, follow these steps to identify your WIFI network.
Step 1: Enter Device Settings
Press the back button on your Shaker Solo to enter the System Mode menu.
Ensure that the Device Settings option is highlighted and press the green key on the keypad.
Step 2: View connected WIFI network
Scroll down to the WIFI Setup option from the Device Settings menu and press the green key.
Select Info and press the green key on your device keypad.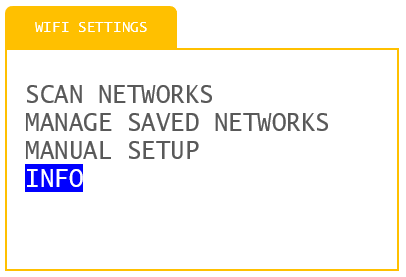 The current SSID (WIFI network name)which you Shaker Solo is connected to will then be displayed.