It's time to process your first iK Vend transaction! When a customer purchases any cellular prepaid services such as airtime, data or SMS bundles, they can pay using either their bank card or with cash. For cash transactions, you will need to use your iK Wallet to complete the transaction.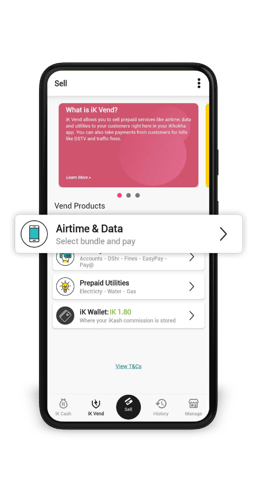 Here's how it works:
Open the iKhokha App
Tap iK Vend and select Airtime & Data
Select the Service Provider
Select the Prepaid Type (Airtime, Data or SMS)
QUICK NOTE: SMS bundles may not be available for some service providers
Select the bundle amount
Add amount to the basket and proceed
You will have two payment options (Pay with Card or Pay with iK Wallet)

If you complete the payment using a card, you'll earn iKash as commission. iKash is stored in your iK Wallet.
If you complete the payment using the iK Wallet, you will earn commission but your iKash balance will be deducted*
QUICK NOTE: If you do not have iKash available in your iK Wallet, you can easily Top Up your iK Wallet balance by using your debit or credit card. You can also Top Up via EFT or by depositing at an ABSA ATM.