Which Cards Does iKhokha Support?
Take a look at the cards you can tap, swipe or insert using your iKhokha card machine.
iKhokha Card Machines support a range of VISA, MASTERCARD or MAESTRO cards such as:
Debit Cards
Credit Cards
Gift Cards
SASSA grant cards
Any other (magstripe or chip) card supplied by VISA, MASTERCARD, or MAESTRO
QUICK NOTE: Take a look at the card before you attempt to process a transaction. If you see any of these logos, you're good to go!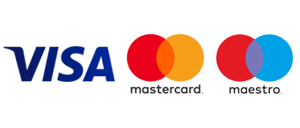 The following card types are not supported (payment will not be processed) by iKhokha Card Machines:
All non-VISA, MASTERCARD, or MAESTRO cards
American Express (AMEX)
Diners Club International