iKhokha Vend enables you to sell prepaid products, and offer certain account payments services direct to your customers.

How do I get iKhokha Vend?
Download the free iKhokha app and start accepting card payments
Start selling iKhokha Vend
What prepaid products and services can I offer to my customer?
Cellular Services (prepaid airtime, SMS and data bundles)
Prepaid Utilities (electricity and water)
Bill Payments (DSTV, Traffic fines, Telkom, Pay@, Easypay - Incl. Municipal Accounts)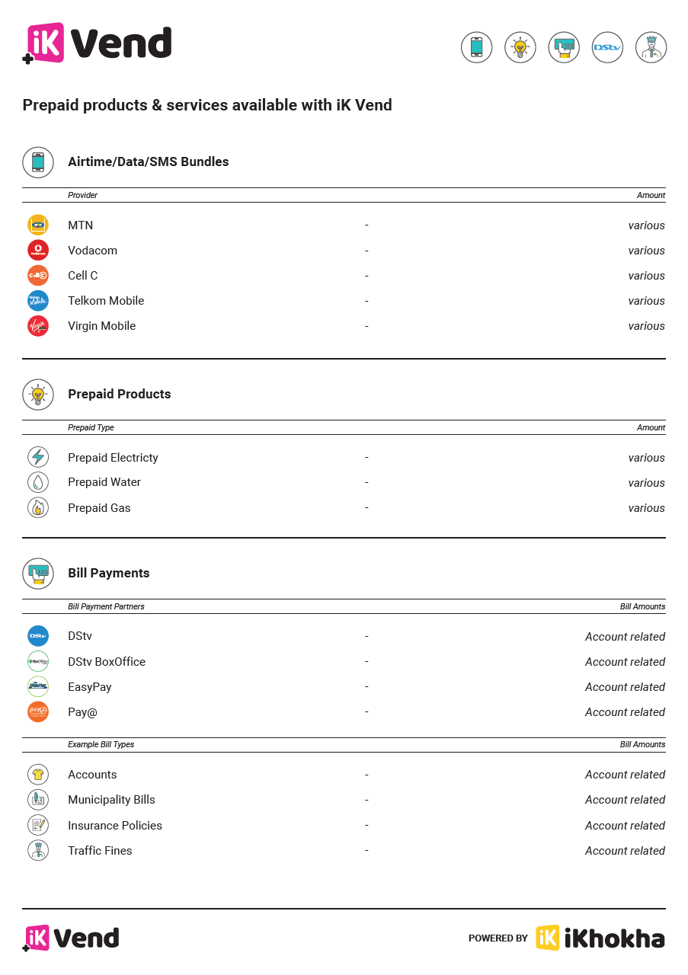 Do I have to have an iKhokha card machine to sell prepaid products and services?
Yes - either the Mover or Shaker Duo.
I have the Shaker Solo card machine; can I sell prepaid products and services to my customers?
No. It has not yet been released for the Shaker Solo yet.
How do I sell prepaid products and services?
Log into the iKhokha app on your mobile phone. Open the main menu, select Vend, select the prepaid service you would like to vend. Accept payment via card. Issue voucher (print or email).
What are the costs associated with selling prepaid products and services?
There are no costs that you will incur.
Can I use any iKhokha card machine in conjunction with the iKhokha app to sell prepaid products and services?
You can only use an iKhokha Mover or Shaker Duo card machine together with the iKhokha in order to sell iKhokha Vend products.
Who do I contact if a transaction is unsuccessful?
You can contact our support team who is available 7 days a week via email: support@ikhokha.com or call: 087 222 7000 to help with any queries.