Get to ready to find out just how easy business can be with the Shaker Solo!
Here's everything you need to know about getting the most out of your Shaker Solo card machine.
This nifty device operates independently, meaning you don't need a smartphone to accept card payments.
With 4G and WiFi connection capabilities and a built-in printer, this card machine enables you to accept debit and credit cards on the go and offer your customers a printed receipt as proof of purchase.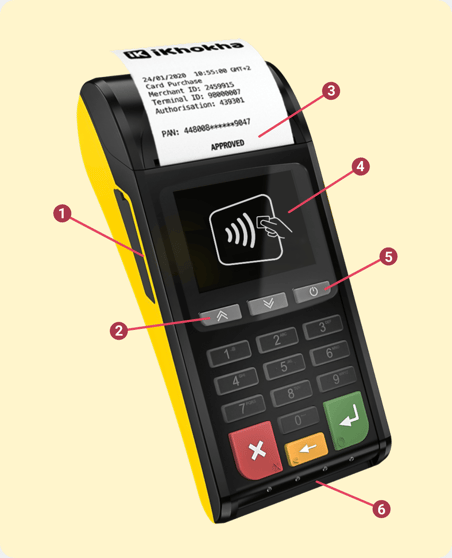 1. Power Input Socket - Remove the rubber cover to access
2. Function Buttons - Navigate the menus and Solo functions by using these buttons.
3. Printer - Pull the flap to release the printer cover and insert the thermal paper roll.
4. Tap Payments - Tap the card chip on the screen to make a tap payment.
5. Power Button - Press and hold to turn the Solo on and off.
6. Insert Cards - Insert bank cards to take payments.
TIP: While the Shaker Solo operates without a smartphone, you can track your business performance using real-time analytics on the iKhokha app, no matter where you are!

Why You'll Love the Shaker Solo:
No monthly rental fees
1-Click payment
WIFI capabilities
Tip functionality
VAT functionality
Add custom references to each payment
Easy Refunds
Simple and easy-to-use navigation
Built-in 4G SIM card that accepts payments without being connected to a smartphone
Built-in thermal printer (57mm)
Tap & Go for safe, hygienic transactions
Accepts Mastercard & VISA
Business analytics is available on the iKhokha app (free download on Andriod and iOS)
Choose between a one-off payment or a payment plan
To view the accessories available for your Shaker Solo, click here.