Follow these steps to get setup and paid.
For businesses that are a Private Limited Company (PTY) Ltd, you'll need to follow these steps and submit the information listed below.
Please note: Setting up your profile should ideally be completed by one of the business owners. This makes the process of getting verified a lot quicker and easier. However, if you're not the business owner we'll help you to get the required information together.
You'll need to provide your email address and cell number, create a password and accept our Ts and Cs.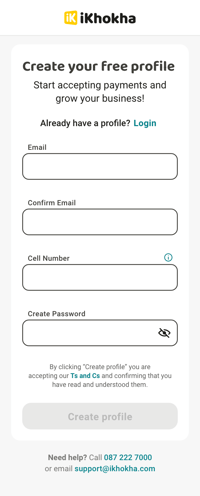 Step 2: Complete the following information
Your name and surname.
When completing your name and surname, please ensure this is exactly as it appears in your green ID book or smart card. If you have more than one name you just need to put the first name.


Select whether you are the business owner or not.


Click registered business and then select Private Limited Company (Pty) Ltd. Click "next".





Complete the business name. This is what you call your business and the name that will appear on your digital or printed receipts.

Search and select the business category/ type of business which best describes what your business does eg. hairdresser or bakery etc.
If you would like, you can also share a brief description of what your business does so we can check that you selected the right category for your business.
Complete the business address. This is the address where your business operates from.
Provide the business registration number, as we need to check that the business is registered with the CIPC.
The business banking details. This needs to be the bank account in the business' name and where your payouts will be received.
If you're a South African citizen or a permanent resident with an SA ID, then you'll need to complete your ID number.

If you don't have an SA ID number, then click here and follow these steps.


Please note: iKhokha securely stores your information and uses it for the purpose of completing FICA checks to verify your identity.
Step 3: Complete an easy identity verification process
To verify that you are an actual person and that the information you provided is your information, we need a live selfie of you and a photo of the original, of either your
- Green ID book
- Smart ID card (front only)
- Valid driver's licence (not expired)
- Valid SA passport (not expired)

Through this online identity verification process, we use this live selfie and compare it to the image in your identity document to check that it's you.

Follow these steps to complete your identity verification
Allow camera access when requested so that you are able to take a live selfie and a photo of your identity document (This pop up notification may differ depending on the device you are using).


If you don't allow camera access then click here to complete our manual identity verification process. Please note that verification will take longer if you need to be manually verified.

Get ready to take a selfie. Remove your glasses or anything covering your face like hats, scarves or hair. Stand in a well lit area, and avoid bright lights behind you. If you can't see without your glasses then get someone to help you take the photo.
Position yourself within the circle, click "Take selfie" and smile.




Please note: This photo will only be used for the purpose of verifying your identity. It won't be shared or published on any social media platforms.
Review the selfie and click "Yes, use this one", if your face is clear and the photo isn't blurry.



Select the type of identity document you will take a photo of.




Take a photo of your selected type of identity document. Position the document within the frame and capture the entire card or page.


Please note: Please make sure that the photo you take is of the document type you selected. So if you select "Green ID book" you must take a photo of your Green ID book. To choose a different document type click, "change document type".
Click "Happy with this one" if the image is clear and you have captured the entire card or page.


Step 4: Submit additional required documents to onboarding@ikhokha.com
If you are not one of the directors of the business then please also email the following to onboarding@ikhokha.com:
Resolution letter signed by all the directors (download the template here)
A selfie of one director holding their identity document and a copy of the original document.*
*Please ensure the details on the document are clear. ID book, ID card, valid driver's licence or valid SA passport are accepted.
Please note: When sending the additional information, please use the same email address you used to create the profile.
5. Wait for verification or check the status of your profile
Look out for our number 087 222 7000 or an email from us.

You can also check the status of your profile by logging into the iK Dashboard using the email and password you used to create your profile.

If you've purchased a card machine then get your card machine linked to your profile.