Ready to process your first bill payment? Your customers can settle their bills either using their bank card or with cash. For cash transactions, you will need to use your iK Wallet to complete the transaction.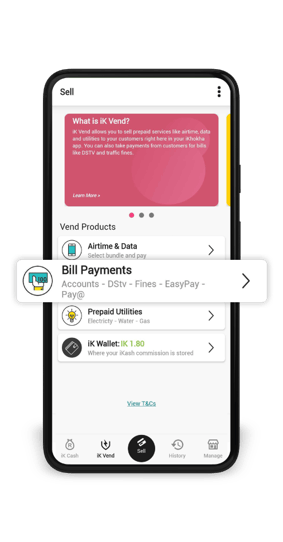 Here's how it works:
Open the iKhokha App
Click iK Vend > Bill Payments
Select relevant bill payment
Enter the relevant account number, OR EasyPay, OR Pay@, OR traffic fine number
If you're using an EasyPay OR Pay@ number, you must enter the full number displayed on the customer statement.
If a customer does not have the EasyPay OR Pay@ number, use the prefix "92021" followed by the account number. Tap Search and the iKhokha App will retrieve the relevant Customer Information.
Tap Charge
You will have two payment options (Pay with Card or Pay with iK Wallet):

If you complete the payment using a card, you'll earn iKash as commission. iKash is stored in your iK Wallet.
If you complete the payment using the iK Wallet, you'll earn commission, but your iKash balance will be deducted*
QUICK NOTE: If you do not have iKash available in your iK Wallet, you can Top Up your iK Wallet balance by using your debit or credit card. You can also Top Up via EFT or by depositing at an ABSA ATM.